There's some good news for coffee lovers around the block. Alzheimer's research has proved that drinking coffee can really help keep Alzheimer's at bay!
The Link between Coffee and Alzheimer's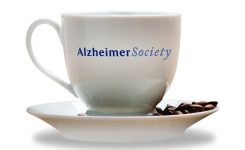 Recent research shows that regular consumption of coffee can help reduce the risk of Alzheimer's. Alzheimer's is a leading cause of death in the United States, surpassing other deadly diseases such as cancer. Alzheimer's is also very expensive to handle, since affected individuals need close care and supervision. Alzheimer's happens to be the most common form of dementia in this country. 2 in every 4 seniors who die in the U.S do so because of Alzheimer's or some other form of dementia. In this light, there have been increased efforts in Alzheimer's research.
High Caffeine Levels in the Blood
University of Miami conducted a study on Alzheimer's with patients who already suffered from mild cognitive impairment and other forms of dementia. This study was to determine whether caffeine intake had any effects on the rapid growth of Alzheimer's especially with patients between the age of 65 and 88. The research found that the patients with elevated caffeine levels developed Alzheimer's more than 2 years later than the patients who did not take coffee at all.
Moderate your Coffee Intake
Moderate intake of coffee will not totally reduce the chances of developing Alzheimer's. However, it can provide some form of shielding from Alzheimer's and other forms of dementia which are big threat to your mortality. This is a very accessible and less costly solution that those suffering from mild impairment can use to slow down their cognitive decline. Regular intake of coffee has various benefits for people irrespective of age. To start with, it helps reduce the risk of dying from diabetes, car crashes and even stroke but there are also disadvantages associated with coffee intake. For instance, drinking too much of it will do more harm than good to your health!
Long Term Care Insurance and Alzheimer's
The health care cost of Alzheimer's and other forms of dementia is very high thus underscoring the need to purchase long term care insurance. This already-high cost is steadily increasing in private medical facilities making it impossible for patients to pay out of pocket. Many people brand long term care insurance as expensive and unnecessary, but it's quite the opposite. Long term care insurance ensures the safety of your assets and savings that you have accumulated throughout your life. You get the peace of mind that in case you ever need long term care, it'll be catered for by the insurance company.
LTC insurance is a great way to make sure that you receive quality care without dipping your hands into your pocket. LTC Key helps you shop around and identify the best policies available for you based on your specific needs. We help our customers choose wisely and save money in the process. Our quote-comparison service changes the rules of the game so that carriers compete for your business.
Learn more about Alzheimer's and Long Term Care.