Do Long Term Care Insurance Rates Increase?
Yes they sometimes do.
Several things in life are certain: taxes, death and even inflation. Everything is becoming more costly with the passing of time.
Most LTC insurers reserve the right to increase rates at a time of their choosing, but not all companies have done this. So while there's a significant chance rates could go up, there's nothing really big to worry about. For the larger part, all big-name brands have increased premiums very responsibly.
Why you Should Buy LTC Insurance from Established Companies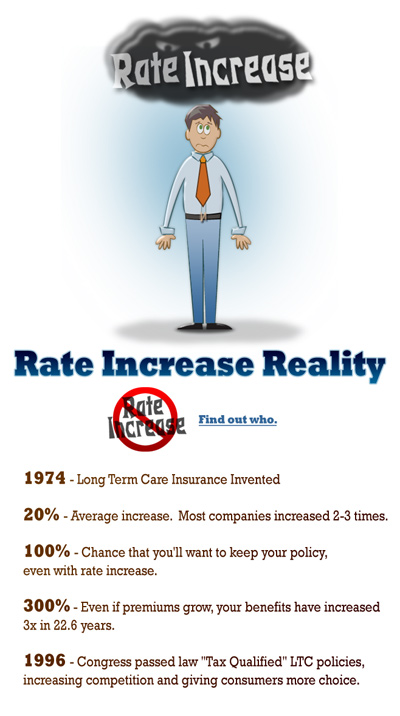 The fact is that LTC insurance has existed since 1974.
Many companies are remodeling their tables to best reflect their claims experience. Essentially, what this means is that they're able to better project risks, which in effect helps keep premiums more stable.
Avoid purchasing insurance from a newly established company. You don't want to subject your insurance contribution to experimentation. The company should actually have some available claims data so they can properly assess their risks. Look at it this way – even the government's actuaries have been unable to safeguard the solvency of Social Security. In the same way, the government wrongly screened Medicare in the 60's. That just tells you that any new insurer might not be able to do their job properly enough to keep your claims safe.
We recommend that you focus on buying LTC Insurance coverage from a company that's been around more than 15 years. Good examples include Genworth Financial, arguably the oldest LTC insurer available. Since 1974, Genworth has only increased premiums thrice to the current 18%. There are a couple of new AAA-rated insurers who are promising no rate increases. But these firms probably haven't been selling plans long enough to witness situations that necessitate rate increases.
Get your Long Term Care from a Financially Stable Company
Many insurers have the right to raise their insurance rates. Even A+ rated insurance companies can raise rates, which makes the relationship between rate increases and financial stability not a strong one. The fact of the matter though is that if established firms need to raise their rates, it's less dramatic compared to market entrants.
To be better informed about rate increases in all states you should consider viewing this detailed list from Texas Department of Insurance.
LTC Key works with all major carriers whose rate-increase history we are familiar with. Our extensive experience working with various providers often comes in handy when consumers are comparing LTC insurance plans.
How to Floor the Risk of LTC Insurance Rate Increases
There are several ways in which you can eliminate the risk of LTC insurance rate increases. A handful of insurance companies do allow single-pay premiums. This means that you pay your premiums all at once and it's a done deal (there's no chance you'll be subjected to rate increases in the future). However, due to lack of competition, most Single-pay premiums tend to be quite expensive.
To learn more about rate increases and Long Term Care insurance, simply complete the form below.